NEWS

NOVEMBER 2023
Out now - my new book on Musical Praxis and Conducting - both in English and in German!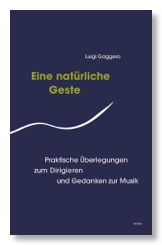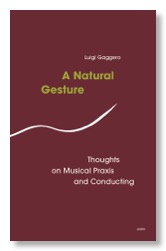 From the Preface by Barbara Hannigan:
"A natural gesture is a philosophy of sound, for musicians, for conductors, and can be read in metaphor by anyone who delves deeply into that about which they are passionate. It is a beautiful exploration of a Way. Reading this book makes me eager to get back to the scores, to the practise studio, and to the podium, to strive to serve the music at a deeper and deeper level. And also, to realize that it is not just burying oneself in music but the authentic and healthy being one must nourish through philosophy, self-realization and rhetoric, to reach the silence which precedes the sound."

You can also buy it HERE


NOVEMBER 2023
Release of new SAMUEL ANDREYEV portrait album 'IN GLOW OF LIKE SECLUSION' on Métier / Divine Art Records (UK)
The album will be released on CD, double LP (audiophile 180g vinyl) and streaming audio.
Ensemble Proton Bern
Luigi Gaggero, conductor



FEBRUARY 2023

Luigi was guest of Splendida Cornice, the new program of the Italian TV Channel RAI 3



JANUARY 2023

After serving as Chief Conductor for four years, Luigi has also been appointed Artistic Director of the "Kyiv Symphony Orchestra". From mid-December, he will therefore exercise both functions within his Orchestra.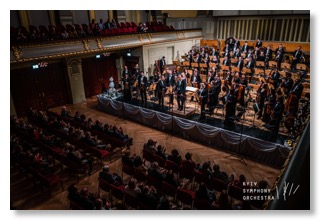 DECEMBER 2022
EXCERPTS PRESS 2022

What you hear on this evening is excellent orchestral sound at an international level.
Time.News, 2022
***
The fact that the symphony orchestra from Kyiv was honored with standing applause after its Wiesbaden tour concert (…) had not only political, but also purely musical reasons.
The musicianship of the Kyiv Orchestra made the deepest impression of the evening. One sensed that they wanted to convey a message, that they wanted to have an impact on reality with their music. (…) The interpretation, which skilfully used the means of historically informed performance practice and was coordinated by the chief conductor Luigi Gaggero in an organic and suggestive way, made you experience this good humoured piece like architecture with columns, arches and ornaments entwined with plants.
Frankfurter Allgemeine Zeitung, 2022
***
The conducting arabesque-like, vivid, yes, almost virtuosic - the overall performance in its perfection (…) of an orchestra which I'll never forget!
Klassik-begeistert, 2022
***
The Kyiv Symphony Orchestra – a young orchestra with a large proportion of women – bewitches with a delicate, lively sound under the direction of its immensely committed Italian chief conductor Luigi Gaggero.
Tagesspiegel, 2022
***

Lyatoshynsky (…) it could hardly be played more carefully and masterfully than by Gaggero and his team from Kyiv.
(…) This level is unbelievable - considering that the male members of the orchestra must not have practiced at all for many weeks.
Berliner Morgenpost, 2022
***
Symphonic poems by the Ukrainian masters Borys Lyatoshynsky (1894 – 1968) and Yevhen Stankovych (born 1942) were interpreted under its precise and heartfelt chief conductor Luigi Gaggero, each poem unfolded impressive structures after a tender beginning. One could experience here a perfectly cohesive music-making and a multifaceted sound culture.
Ostthüringher Zeitung

Kyiv was the musical home of Borys Lyatoshynskyj (1895 - 1968), whose four-movement fourth symphony entitled "Peace shall defeat War" musically anticipated what is currently happening in Ukraine. However, the orchestra did not let the peace sound as a tender vision, but as a recurring, passionately melodic longing, which ultimately managed to suppress the roaring, aggressive tumult of battle - driven to the extreme by Gaggero. Only in victory did it return in filigree delicacy in the last notes.
Süddeutsche Zeitung



11 OCTOBER 2022
Award "Musical Contest" of the Fondation Prince Pierre delivered by the Princess of Monaco delivered to Luigi and his Kyiv Symphony Orchestra!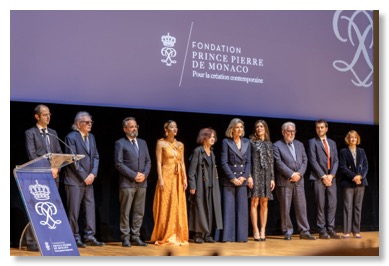 OCTOBER 2022
Interview for Das Orchester (in German)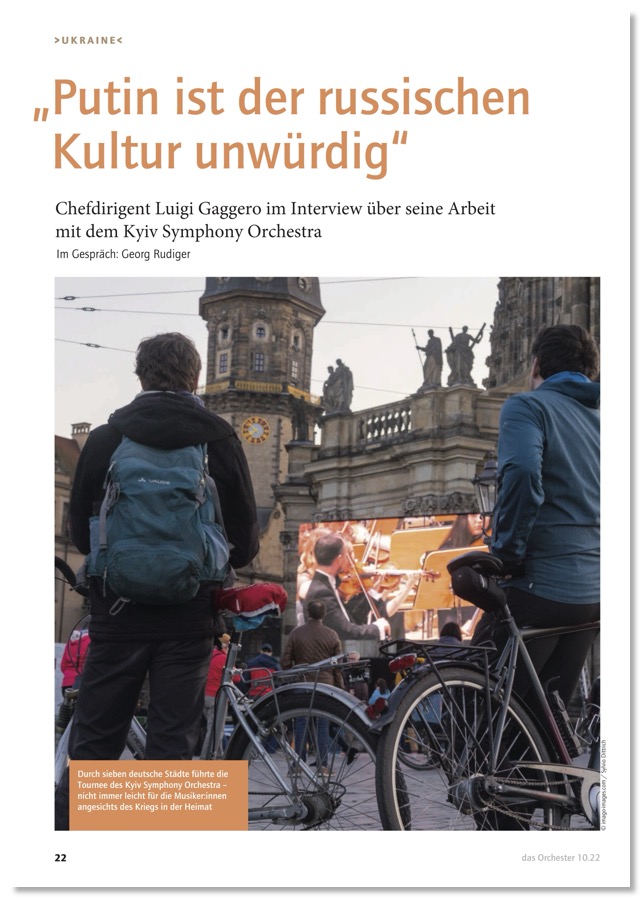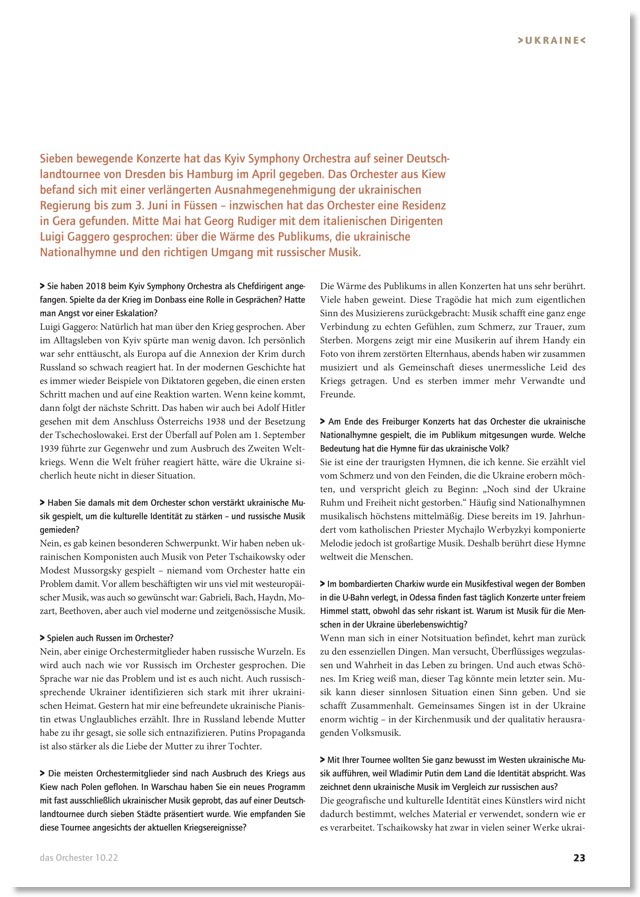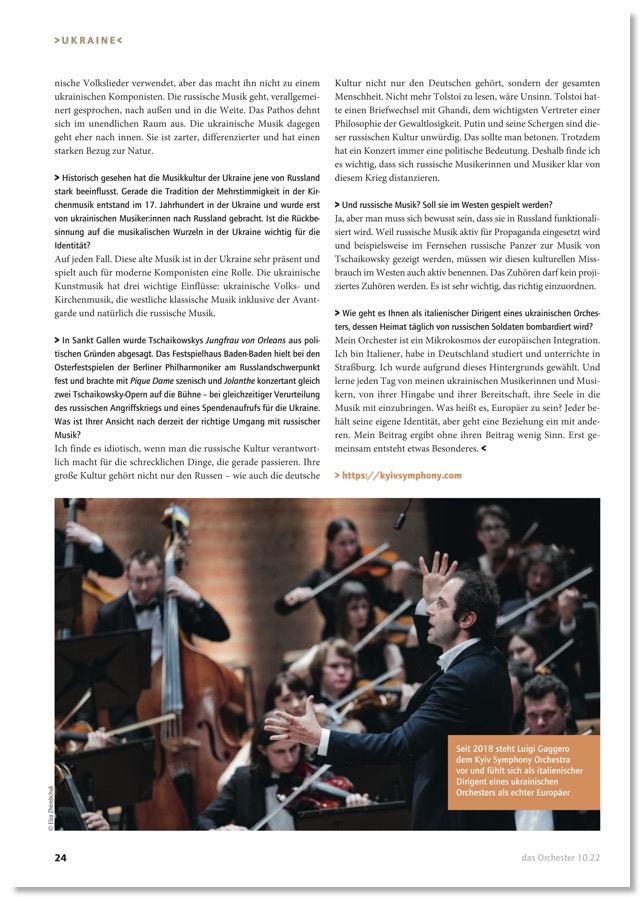 JUNE 2022
Luigi and Kyiv Symphony Orchestra play at NATO Summit in Madrid!




MAY 2022
Interview for L'Avvenire (in Italian)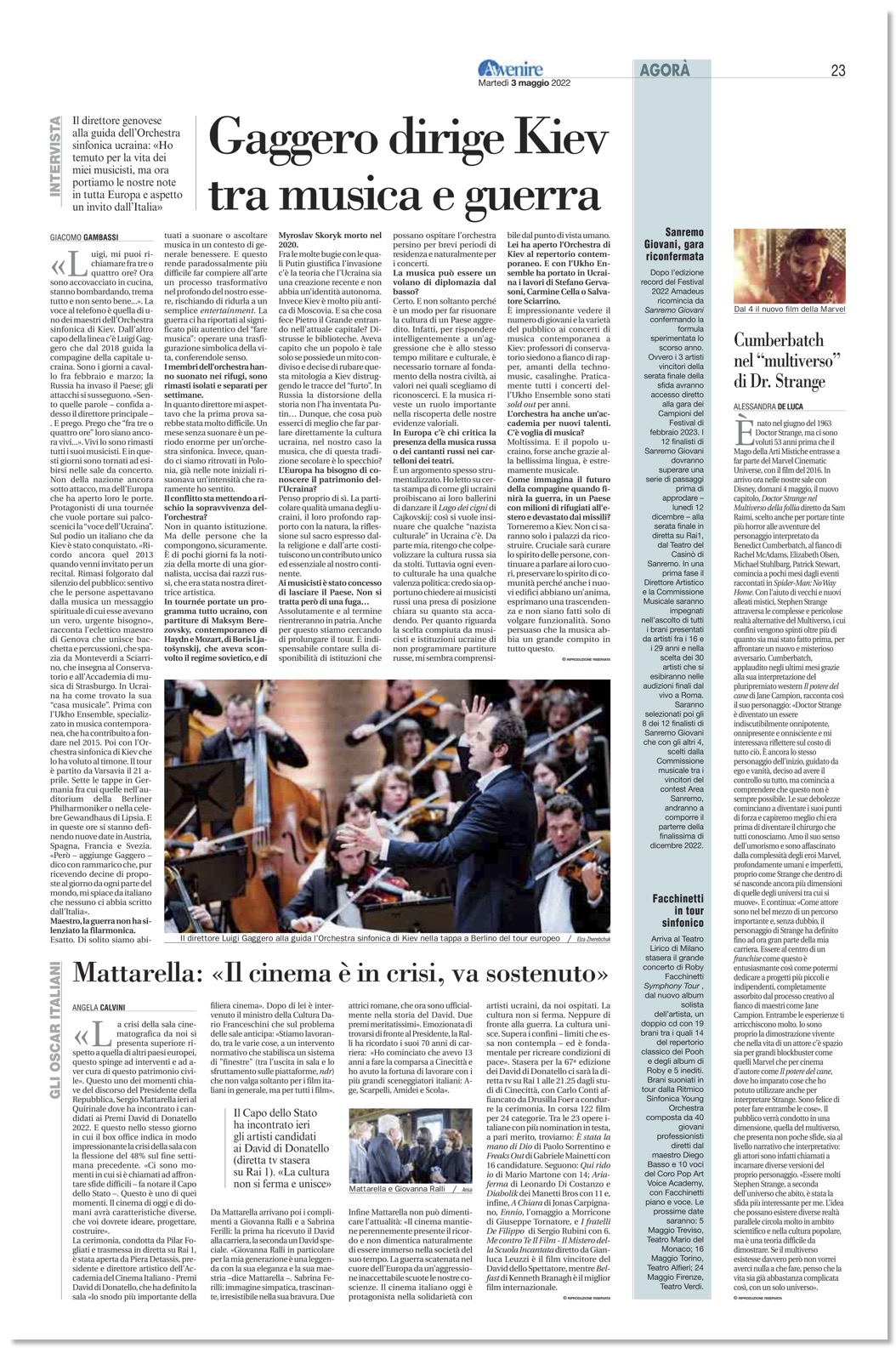 APRIL 2022
Streaming from Dresden Kulturpalast!

Luigi on